Show and Event Blogs
The Port Townsend Wooden Boat Festival was three days packed full of fun events.  Actually four days – as Thursday, the set up day, is really a day for presenters and locals to get a preview of what is to come.    And preview we did.  There were hundreds of wooden boats of all sizes.  As well as vendors for and information about the many processes to help you buy or build your own vessel.
And of course there were many boats exhibited for our viewing pleasure.   The most colorful were five HRBA replica Grand Canyon whitewater boats.  The Susie R, Flavell, Susie Too, Portola and GEM were all resplendent in the colors of  Grand Canyon boats.  Dave Mortenson showed the film Big Water Runners of the Colorado River  twice to appreciative crowds.  Tom Martin gave a talk and power-point presentation on the history of Grand Canyon river running.
We were pleased at how many of our visitors had had the experience of running the Colorado through the Grand Canyon.  And there were hundreds who have it on their "bucket list".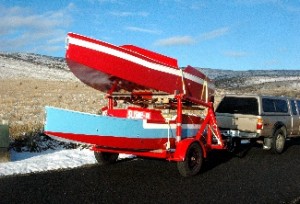 Orcas Community Center was the site of another showing of the  film Big Water Runners of the Colorado River.  Many local folks turned out for this Monday evening event which highlighted the achievements of early river runners as well as local (past) residents Brick Mortenson and Magda Mische.  We were amazed at how many of the Orcas attendees have been down the Colorado through the Grand Canyon!  Hope we piqued the interest of the rest of them!
The Oregon Whitewater Association sponsored a showing of the film at their annual meeting on September 12 at RIVER CONNECTIONS, river runners supply store.   The event was well attended and the experienced river runners enjoyed the film.  Some have been downt COlorado through the Grand Canyon previously, but all are avid whitewater affectionados.