Boat: Susie R. Builder: P.T. "Pat" Reilly Location: Studio City, California Year: 1954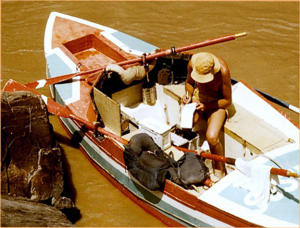 Plez Talmadge "Pat" Reilly began his river running with Norm Nevills, initially as a passenger, but soon as a boatman.  He first ran through the Grand Canyon in 1949 on his vacation from Lockheed Aircraft in Burbank, California, where he worked in tooling.  After Nevills' death in 1949, Reilly ran again in 1950, 1951, and 1953 as a boatman rowing the Nevills-designed cataract "sadiron" boats, which had pointed bows and square sterns.  Rowing with his back to the bow, but facing downstream, resulted in the blunt end of the boat always hitting the whitewater first.  Passengers had to sit on the forward and aft decks and either hang on for their lives, or walk around the rapids.  Their weight and all the gear was in the front and back of the boats.  Reilly felt that these boats were totally inadequate and he decided to build his own boat.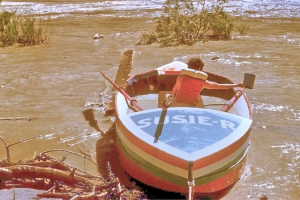 Reilly painted his boat with color and design assistance from neighbor Harper Goff, who was a Disney Studio artist.  Goff gave color and style that started a tradition still used by boats today that run the Colorado River.  The Susie R was named to honor his wife.  In 1955, he returned with the Susie R and another similar new Reilly boat, named the Flavell, to join Moulty Fulmer at Lee's Ferry.  Fiberglass was a new building material that Reilly selected to build his hull. He made a mold in his backyard that would yield a hull with two pointed bows that measured 17 feet long and 5-½ feet wide at the beam.  The sides were at right angles to the bottom, which had a nice rake the length of the boat.  He moved all the storage compartments to the center of the boat in watertight compartments to make the boat easier to turn, and to minimize the space that could be swamped in a big wave.  Reilly had 28 different watertight compartments that made the boat unsinkable.  For his wife, Susie, he made a special self-bailing seat recessed in the deck in front of the splash guard.  He put a passenger seat behind him.  Although he still called the boat a "cataract" boat, it was a great leap forward for oar-powered boats.  In 1954, Reilly and Moulty Fulmer, who had built his own boat, named the GEM, agreed to run the Colorado after being matched up by Doc Marston, who they both knew.  Reilly showed up at Lee's Ferry with an un-named and un-painted boat that was otherwise ready to run.  Reilly decided to cancel the trip since he had a bad experience the year before with low water and he felt the river, at only 17,000 cfs, was again too low.  Fulmer took his GEM and went north to run the Gates of Ledore and Reilly went home.  They agreed to return and try again in 1955.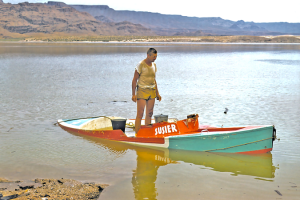 The Susie R was rowed by Reilly in 1955 and 1956 on complete trips to Temple Bar on Lake Mead.  He came back in 1957 and found the highest water anyone had seen in a long time, as the river crested at 124,000 cfs.  Again, with Fulmer, they launched on the highest water ever run down the Canyon.  The water was fast with few places to camp, and Reilly had many problems with the fiberglass boats being holed or cracked.  At Phantom Ranch, they decided to abort the trip and return in 1958, leaving the boats upside down at the boat beach.  Return they did and they ran again on slightly lower water.  V.R. "Brick" Mortenson flipped the Flavell below Deer Creek Falls and they lost this boat down river.  At Lava Falls, with only two boats, no kitchen gear, and an impossible lining situation, they decided to set the Susie R and GEM free and hike out.  Making their way to Temple Bar, they rented a boat to search upper Lake Mead for their three boats.  Georgie White's party had recovered the Flavell and they found the Susie R half sunk.  The GEM was not found.  In 1959, Reilly again ran his two boats with Carl Pederson and Fulmer rowing his Flavell.  The failure of the fiberglass got so bad that it was decided to sink the boats at Pipe Springs and hike out.  The unsinkable Susie R was filled with rocks and her watertight compartments all punctured.  The two Reilly boats were then set adrift and sunk.
Boat: Susie R. Replica Builder: Ian Elliot Location: Ellensburg, Washington Year:
Fall 2009 – Summer 2010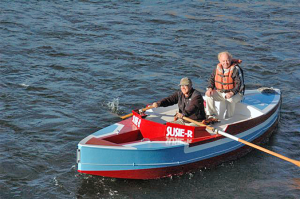 Ian Elliot's previous boat building experience encouraged him to take on the challenge of replicating a boat last seen over 50 years ago.  There were a few drawings on the back of scrap paper and, fortunately, plenty of photos.  It was decided early in the process to not build a fiberglass hull, but to use plywood coated with fiberglass.  Elliot was able to draw plans from studying every image he could find and determined the scale from common items seen in the photos.  A 16-inch wheel, a number 10 can, and a nine-foot oar all helped determine the size of the boats to replicate.  He developed detailed plans and then began construction.  Slowly, pondering each step, Elliot worked almost by himself until the Susie R replica was complete and looking exactly like the original. The five different colors – red, white, blue, tan, and black were all applied and the name, Susie R, was painted in a 1950's font.
In September 2010, the Susie R replica first touched water on the Yakima River for a float of a few miles and was then put in above Moab, Utah, in November for a short run down the upper Colorado.  On Feb. 1, 2011, Elliot took to the oars at Lee's Ferry and was joined by replicas of the Flavell and Fulmer's GEM to return to the river.  Pat Reilly would look at the river levels at Lee's Ferry and go home. Ian Elliot, however, was ready to tackle the water levels and run every rapid in the new Susie R.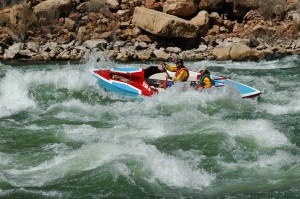 The following year, in Spring 2012, Ian's Susie R returned to the Grand Canyon along with the Flavell, and GEM, and two Dory replicas, the Susie Too and Portola.  This trip, Susie R was piloted by Craig Wolfson, who, for the first time in 20-something years rowing a raft down the Colorado, had the opportunity to run a river in a wood boat, and enjoyed every minute.
[/twothirds_columns_last]