Port Townsend Boat Show 9/7/2012
The 2012 Port Townsend Wooden Boat Festival was three days packed full of fun events.  Actually four days – as Thursday, the set up day, is really a day for presenters and locals to get a preview of what is to come.    And preview we did.  There were hundreds of wooden boats of all sizes.  As well as vendors for and information about the many processes to help you buy or build your own vessel.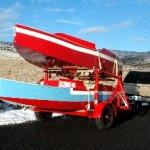 And of course there were many boats exhibited for our viewing pleasure including donate a boat to charity event.   The most colorful were five HRBA replica Grand Canyon whitewater boats.  Susie R, Flavell, Susie Too, Portola and GEM were all resplendent in the colors of  Grand Canyon boats. Dave Mortenson showed the film Big Water Runners of the Colorado River  twice to appreciative crowds. Tom Martin gave a talk and power-point presentation on the history of Grand Canyon river running.
We were pleased at how many of our visitors had had the experience of running the Colorado through the Grand Canyon.  And there were hundreds who have it on their "bucket list".