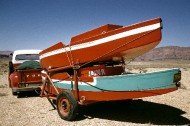 Builder: P.T. "Pat" Reilly Location: Studio City, California Year: 1954
Pat Reilly originally had a trailer built to carry only his 1954 Susie R. Then in early 1955 he built his second boat, the Flavell. His problem was to get two boats to Lees Ferry. His solution was to build a double deck trailer. He used this trailer for his 1950s trip and later for his next generation of boats in the early 1960s.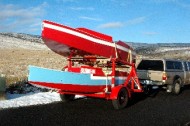 Builder: Dave Fry – Fry's Welding Location: Auburn, Washington Year:
Fall, 2011
Building two Reilly replicas presented the same issue of how to transport both boats. After looking at trailers and the cost of modifying them to hold two boats it was decided to have a replica of Reilly's…
...read more
trailer built. Dave Fry of Fry's Welding was approached with some rough dimensions and a handful of photographs. Fry looked at the photos, scratched his chin; looked at the photos and noted the round pipe construction; looked again at the photos and ran his fingers through his hair; and then he finally said the trailer was really "funky." Two weeks after getting material in stock, Fry produced the Reilly trailer replica. The same "funky" pipe construction was used. Removable fenders were added to meet licensing requirements but still allowed us to match Reilly's fender-less trailer. The adjustable brackets to hold the boat in place were added to match Reilly's trailer. The top back cross bar was made to be removable unlike Reilly's to ease loading or unloading the upper boat. We have a longer front bar to act as a fastening point than Reilly had on his boat.
The top boat was just tied down with no front anchor point but we decided to vary at that point for safety. Fry was able to match the trailer hitch and the wheels. A front small wheel was added to improve the ease of hitching the trailer to the truck. The four vertical pipes holding the upper boat were extended over the Reilly trailer to allow access to the lower boat and to provide a storage space for the eight oars. The Reilly trailer replica was first used in November 2011 to haul the two boats to Moab, Utah, and then to Kanab, Utah, where they are all stored. The trailer pulls very well and the tongue weight is perfect with the two boats in place.