The Susie Too hull was built by Keith Steele in Oregon along with the Portola.  P. T. "Pat" Reilly designed and finished the decking and interior in 1962.  This boat and the Portola were the first boats called dories  following the Moulty Fulmer built GEM which introduced North West boat designs to the Colorado River system.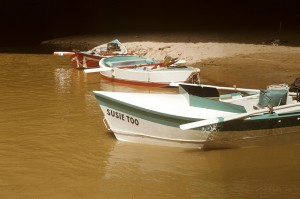 First launched by Reilly in the last year of wild flow the Susie Too launched in late June on 52,000 cfs water and ran all but three rapids where the boat was lined.  Its second run was in 1964 after Glen Canyon Dam start regulating flows.  On that low water run the last part of the trip was on a 24 hour race to get to Lake Mead because the trip was dropped a note from a plane that the flow had been completey stopped.
Reilly sold the boat to Martin Litton who renamed the her Music Temple where the craft became part of what would become Grand Canyon Dories.  Litton retired the craft and gave it to the Grand Canyon National Park where it is part of the historic boat collection.
This has become a very popular boat to replicate since it is the only dory still in existence as part of the Grand Canyon Historic Boat Collection. Kyle Frye in Flagstaff was the first to build a Susie Too replica using a stitch and sow building method in 2009.
Randy Dersham, using some of Keith Steele's jigs and working with Portola replica builder Greg Hatten, built the next Susie Too (seen at left on the Colorado River in 2012) in his boat shop near the Mackenzie River in Oregon.
The most resent replication has been done by Helen Howard (seen at right on the Colorado River in 2014) in Bullhead City, Arizona with the assistance of Tony Wrigley and John Scheoder. Like the original, Helen will rename the boat after her replica trip to "Dances on Water".
Helen, Tony and John copied very closely the actual Music Temple in the NPS collection concentrating on their own measurements and replicating the historic building methods.