Spring 2014 River Trip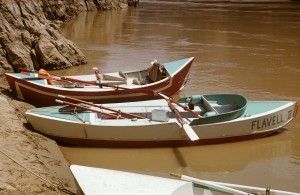 Helen Howard will be the Trip Leader of the next HRBA replica trip through the Grand Canyon launching on March 5, 2014. This trip will replicating the boats on the 1962 trip that helped "Save The Grand Canyon" from more dams! Helen will be building another replica of the Susie Too. She has visited the original Susie Too at Grand Canyon where it is being stored and displayed. Craig Wolfson will build a replica of the Flavell II. Both boats were part of the hallmark 1962 trip.   Joining this trip will be the 1962 replica of the Portola, which was built in 2012 by Greg Hatten.  Here is a short film "Grand Canyoneers 1962-2012" about the two boats.
Born from this trip and another in 1964, the film The Grand Canyon: Living River-Living Canyon, created by Martin Litton and written by David Brower, was produced focusing on the splendor of the canyon and how we can all work together to save it from the "progress" of mankind.  The book "Time and The River Flowing"   As a result of these two river trips visual and printed information successfully led to the saving of the Grand Canyon from two more dams.  All river runners today are able to enjoy the Colorado River through the grand Canyon because of these boats and the courageous men and women who build and rowed them.
On March 4, River Runners and friends will meet at Lees Ferry to prepare for the historic replica trip that begins on March 5.  This trip will feature replicas of boats taken on the 1962 trip, just before the dam interrupted the flow of the mighty Colorado and changed the river running experience forever.
Join us as we load the boats on the 4th, and following the boat loading we will have an evening (space available-call 206-295-0148) of food, fun, and entertainment as we learn how the boats were replicated and watch a video of the 2011 trip with other replicated boats.
Click here to follow our adventure!