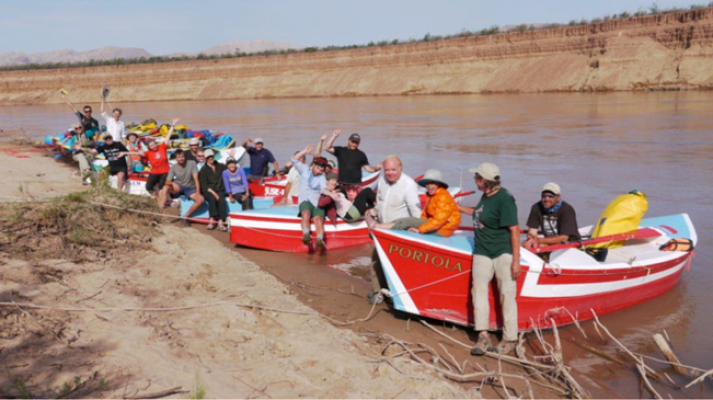 Day 24 A Brief Retrospective In Photos In No Particular Order, Mostly
There will, I'm sure, be many more photos from the trip available as people make their way home and post them. But for now, here's a look back at some of the events, people, and places mentioned in the blog. A fitting end, I hope—after all, a picture is worth a thousand words.
Thanks for reading along, and for all your comments. I hope you enjoyed following our journey. Now go get a river permit and do it yourself.
–Tom Pamperin, Chippewa Falls, Wisconsin
And finally, courtesy of Kristen Burkholder, who joined us from Diamond Creek, a musical look at the trip:
The HistoricBoatsAfloat Song
(with apologies to Gilbert and Sullivan)
They are the very model of a modern river running crew
Collecting photos, measurements and stories of the boating few
Who ran the river early on and put in before 'sixty two
They built the boats themselves and then they painted them all red and blue
Granite, Crystal, Lava, swimmers laughing through the maelstrom
Through all the scouting yet one more has joined the Left at Bedrock club
Yoshie, Tom and HazelTom, Norm, Pam, Elmira in the tub
And Power Station, now members of Colorado Swimming Club
Up and down the beach they trudge, crew hauling gear at every stop
The cameras recreate old photos, filming every flip and flop
They built the boats themselves and then they painted them all red and blue
They are the very model of a modern river running crew!
(Original lyrics at http://en.wikipedia.org/wiki/Major_General's_Song)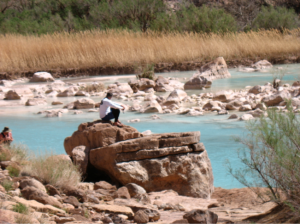 Craig Wolfson lounges on a boulder beside the amazing turquoise waters of the Little Colorado River. Another tough day.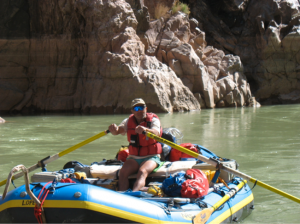 Norm Takasugawa, sweep boat and keeper of the condor cage. And the 462 pounds of M&M's.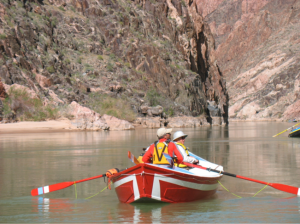 Greg Hatten (rowing) and Dave Mortenson in the replica Portola. You can't see the booze or lollipops from here, but trust me—they're aboard somewhere.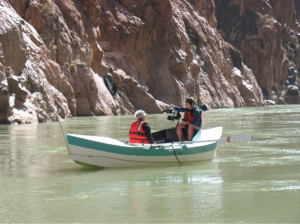 Randy Dersham and his hat being filmed by videographer Ian McCluskey aboard the replica Susie Too, sister ship to the Portola.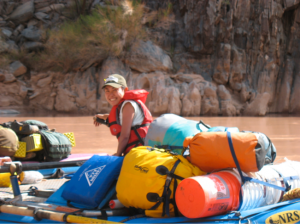 The ever-cheerful Yoshie Kobayashi rowing the Hyde on the mud-brown waters of the Colorado River.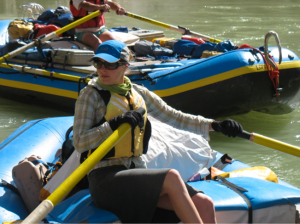 Crystal Elliot brings a fashion sense and cleanliness to river running that borders on the unacceptable as she rows the Hyde on a flat stretch, edging past Norm Takasugawa in the sweep boat.
The group at Hotauta, our last night with Crystal and Randy. From left to right, standing: Dave Mortenson, Pam Wolfson, Ian McCluskey, Leif Mortenson, David Perez, Crystal Elliot, Tom Pamperin, Greg Hatten.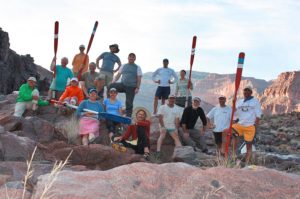 Left to right, seated: Pam Mortenson, Natalie Mortenson, Craig Wolfson, Hazel Clark, Yoshie Kobayashi, Tom Martin, Norm Takasugawa, Randy Dersham and his hat.
(Tom Martin photo)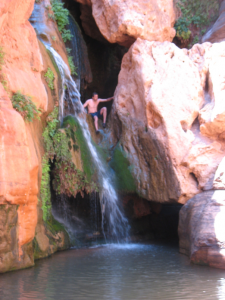 David Perez about to take the leap into the icy waters of Elves' Chasm. Is it a coincidence that the only one of us to make this jump was also the only one to run a raft through a big hole on purpose?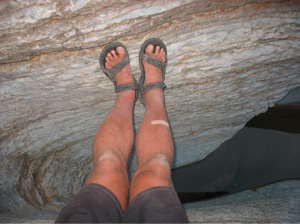 Tom Pamperin contemplates his descent strategy high up in the frog ponds of Forster Canyon Narrows, with nightfall not far away and his flashlight waiting in his tent.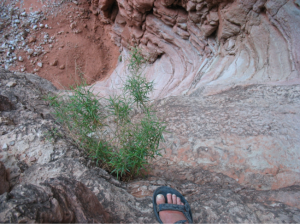 Tom Pamperin asks himself—yet again—"How the hell did I get up here?" during his Forster Canyon hike.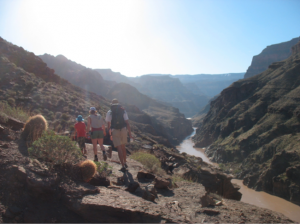 Natalie Mortenson, Cece Mortenson, and Richard Carrier heading out on their Deer Creek-Thunder River-Tapeats Creek loop hike, with a can of coconut juice, a few sandwiches, and 8,364 games of "I Spy" in their near future.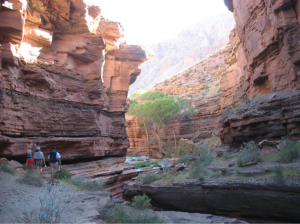 Natalie, Cece, and Richard in the amazing Deer Creek Canyon, nearing the patio. The narrow slot to their right is a hundred feet deep, and narrow enough to jump across if you're stupid enough to try.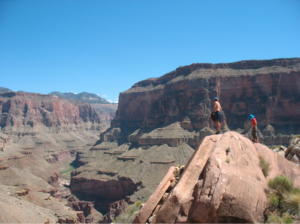 Cece and Natalie Mortenson about to begin the long hot descent into the Tapeats Creek drainage near Thunder River. Not quite halfway done with the loop; more than halfway out of steam.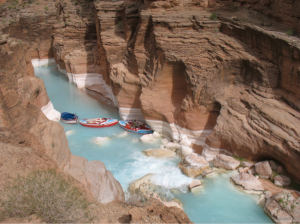 The replica Gem, Flavell, and Susie R in the amazing turquoise waters of Havasu Creek.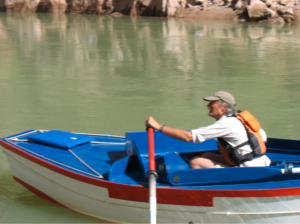 Tom Martin rows the replica Gem he built in 2009–the tallest guy on the trip in the littlest boat. He has done four Canyon runs in the Gem—so far…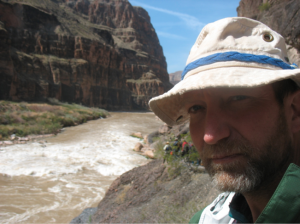 Tom Pamperin scouts Lava falls in his new river hat, getting ready to earn his Colorado Swim Club T-shirt.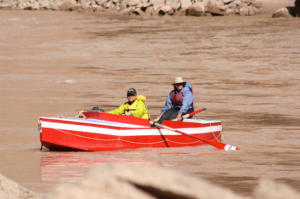 Leif Mortenson rows his mother Pam in the replica Flavell, both of them ready for action.
(Tom Martin photo)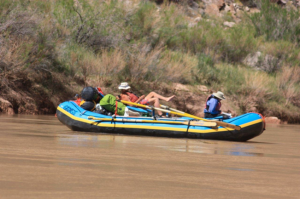 Tom Pamperin searches for optimal rowing efficiency as Ian McCluskey works hard on bow watch aboard the Fat George.
(Tom Martin photo)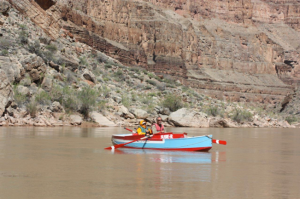 Craig Wolfson rows his wife Pam in the Susie R. Note the drysuit, which Pam elected to stop wearing shortly before running Killer Fang Falls with Norm. Not her best decision. (Tom Martin photo)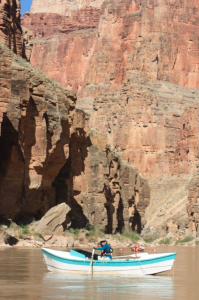 Richard Carrier , Chilean Frenchman fantastique,  rows the Susie Too on a stretch of flat water.
(Tom Martin photo)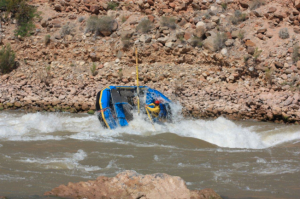 David Perez takes on the hole at 209-Mile Rapid, and the hole wins. (Tom Martin photo)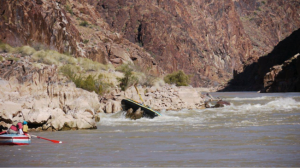 Norm Takasugawa shows Pam Wolfson the far right run at Killer Fang Falls, with a brief stop at the Fangs for an up-close inspection. (Tom Martin photo)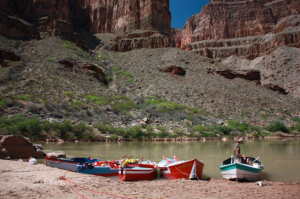 The stars of the show. Left to right: Gem, Susie R, Flavell, Portola, and Susie Too.
(Tom Martin photo)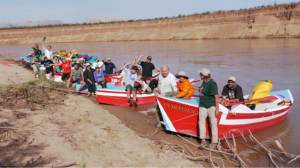 Leaving the last camp of the trip, just above the take-out at Pearce Ferry. Back to font: Richard Carrier, Helen Howard, Tom Matin, Rich Turner, Kristen Burkholder, Hazel Clark, Tom Pamperin (in hat), David Perez, Pam Wolfson, Yoshie Kobayashi, John West, Norm Takasugawa (hidden behind Ian's arm), Leif Mortenson, Ian McCluskey, Cece Mortenson,  Dave Mortenson, Natalie Mortenson, Greg Hatten (seated in the Portola), Pam Mortenson
(Tom Martin photo)