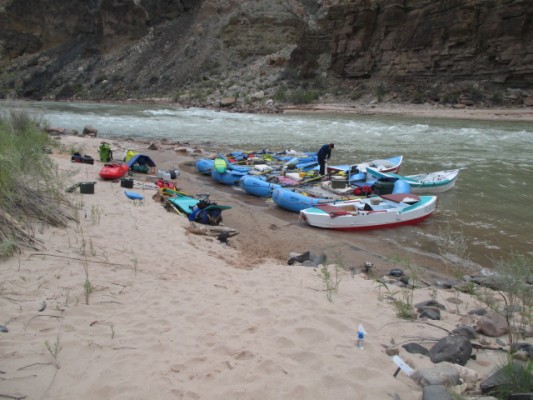 Day 16: Cove Camp to Lower Whitmore Wash
March 20, 2014
Coffee was called early and breakfast soon after that to get everyone up and moving, everything packed and down to the boats.
Stef, who will row the Susie Too through Lava, packed her heavy towards the front.  Even people who had not been in dry suits before were now, or were in heavier splash gear.  While not said, the old "dress to swim and rig to flip" was going through everyone's minds: loads were redistributed and tied down extra tight.  Robb ties down Tony's boat and every strap is so tight is almost <twangs> when you touch it.  Then he ties down his own boat.  Breakfast things are packed away and we leave.
We pass Vulcan's Anvil, a large piece of columnar basalt sitting in the river and head down toward the scouting spot.  We pass the above-Lava camp site.  On the Sonoran Desert Museum trip I was on in 1988, we camped there and were treated to a great thunder and lightning storm, complete with wonderful waterfalls coming off every cliff, and a flashflood coming down the drainage, then went and ran Lava on a thick, muddly flow.  Today, while the water is still muddy from the Little Colorado River flow, it is not thick and the sky is clear and it is hot.
We reach the scout stop on the right and pull in and tie off.  Nate, Dave, and I will film and be picked up downstream.  At the scout location, we stand looking down at the rapid.  Craig starts pointing out lines the boatmen can take.  Dave, Nate, and I climb on to seek high points for the photos we want to take.  Nate pickes the high point in the middle, Dave takes a rock close to the first drop off where he can get photos all the way down the rapid, and I climb farther down to a large boulder just downstream of Cheese Grater Rock, a large black, columnar basalt boulder with a rough, sharp surface that is a must-miss rock.  I can see the drop-off at the top.  If a boatman picks the V-wave run I will get some air shots as the wooden boats crest the waves and have a good downward angle into the waves above Cheese Grater rock and a great angle of the end waves as well.  I can also see the top and the start of the "Dory Slot", so named because if you ware willing to skirt the ferocious "Ledge Hole" on the right, you can go over one small wave and likely get an easy, relatively dry ride.
Robb goes first, with Natalie as passenger, and, as always, makes it look easy and eddies out on the right.  CeCe is next and her raft flies through and eddies out on the left near the waterfall.  Izzy is next with John as passenger and makes it looks easy and dry as they also hit the dory run.  The wooden boats come through: Greg in the Portola, who eddies out on the right, Stef in the Susie Too, who brings it under where I am sitting (both of us pumping fists), and then Craig, who makes a great run in the Flavell II and turns in right below Cheese Grater Rock to pick up Dave.
Our yellow boat friends arrived just after we started scouting and they came through in tight formation with no problems.  Tony follows on the cataraft and makes a great run, but finishes backwards, and he is followed by Doug, who comes through dry and grinning.
Nate and Dave scramble down safely over the very exposed rocky trail down to the water.  Dave climbs over Izzy's raft to Craig's boat, while Nate and I pack away camera gear and cases on Izzy's boat and head off to the Son of Lava and Tequila Beach.  We break out the tequila and our yellow boat friends break out the Yukon Jack and an impromptu boat party ensues, with much laughter and high-fiving.  They head off to Mile 185 camp and we head to Whitmore Wash for the night.  Beers are passed between boats.  I take back the oars of the Susie Too to test my wrists and we enjoy the feeling of ABL, "alive below Lava".  We still have 100 miles to run, but Lava is behind us, at least for this trip.
For the first time on this trip, our chosen stop, Upper Whitmore Wash, is taken by a group from Arizona River Runners and NPS archaeologists, who are on a monitoring trip.  We had been passed by them above Walthenberg Rapid a few days back.  We move down to Lower Whitmore Wash and set up camp for our layover day, our exchange of 2 people going out and 2 coming in, and 3 more people hiking down for the night tomorrow.
~Helen Howard