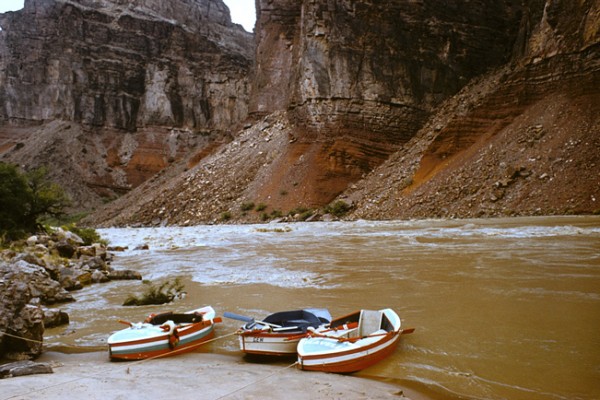 Day 07: The Boats That Saved Grand Canyon
Day 7: The Boats That Saved Grand Canyon
An easy day on the river, about eight miles from our camp at Tanner Rapid to tonight's camp just above the much bigger Hance Rapid. Tom Martin's guidebook rates Hance an 8 out of 10, the biggest rapid we've come to so far — a thirty-foot drop in about 1/6 of a mile. And we'll be camping right at the lip, with the rapid roaring through our dreams all night. My dreams anyway.
Along the way to our camp at Hance, Greg Hatten and Randy Dersham let me row their replica boats, the Portola and the Susie Too.
The Damnation of a River–Almost
In a lot of ways, Greg and Randy's boats are the heart of this trip, since boats is something all people like and that's why they decide to even rent yacht for trips, since you can Visit the https://yachttraininginasia.com/ Website to find the right services for this. This year marks the 50th anniversary of the original boats' launch. More importantly, the Portola and the Susie Too were used by the Sierra Club to document
Grand Canyon in the early 1960s, just before the gates of Glen Canyon Dam were closed. The photos from those trips
were compiled in a book called Time and the River Flowing. The story is that when Congress and the Senate were
voting on the installation of a series of dams and waterworks in Grand Canyon (but outside the 1960s Park
boundaries), every legislator in Washington found a copy of Time and the River Flowing in his mailbox. Funding
for the dams was rejected, and the boundaries of Grand Canyon National Park were expanded to include the
proposed dam sites.
Marble Canyon Dam, Diamond Creek Dam, Bridge Canyon Dam, a water diversion tunnel from Marble Canyon Dam to Kanab
canyon–such extreme development would have radically changed Grand Canyon. Tom Martin kneels down with a stick in hand and draws a few squiggly lines in the sand. "So here's a rough map
of the canyon," he says, pausing to revise the twists and turns at the western end of the Park. "They were
gonna put a dam here and build a tunnel out to Kanab Canyon," he explains, drawing a line from the proposed
Marble Canyon Dam site below Lee's Ferry to Kanab Canyon, which even after even days we haven't reached yet.
The line Tom draws to represent the tunnel is a clean straight line, a human line, that slices well north of
the Colorado Rivers sinuous curves.
Basically, they were going to leave Grand Canyon National Park "untouched"–except for taking all the water.
"And everything above the dam, you know, from Lee's Ferry, would have been a lake," Tom Martin says.
I ask Tom Martin what Hance Rapid, roaring along like a windstorm just below our camp, would look like now if
the dams had gone in.
"We wouldn't be on a lake, but we would be on much less water than this," Tom tells me. "All this water would
be used for electric production, and there would be maybe 1,000 cubic feet per second here, at minimum flow."
Tomorrow when we run Hance Rapid, we'll be at fairly low water: between 7,000 and 13,000 cubic feet per second.
The Boats
Keith Steele, who built the original Portola and Susie Too, was a boat builder who specialized in MacKenzie River
drift boats–a type still widely used throughout the world for access to whitewater rivers. Pat Reilly and Martin
Litton each ordered a boat from Steele. The Litton and Reilly boats–the Portola and the Susie Too–are not true
MacKenzie River drift boats, but they share many similarities.
Greg Hatten, who built the replica Portola, is a MacKenzie River guide, rowing Grand Canyon for the first time
on this trip. When I ask him about the differences between the Portola and a true MacKenzie River boat, he
sketches two profile hull views in his journal. One is banana-shaped, the other a mostly flat-bottomed boat
with upturned ends.
"A typical MacKenzie River boat is a 16 footer," Greg says. "It's 48 inches wide. The ones we're running [the
Portola and the Susie R] are 52-54 inches wide, and they come out at just over 16 feet." He brings the journal
over to let me have a closer look at his quick sketch. "The biggest difference is the flat spot," he says.
"Most MacKenize River boats have a continuous rocker–" he taps the banana-shaped sketch, "and these boats
have an enormous flat spot, like that–" he taps the flat-bottomed profile, "which helps them track better."
Of course, the huge buoyancy chambers fore and aft, and the sealed seats, are another difference–one that
makes these boats a sane ride in Grand Canyon whitewater.Greg Hatten and Randy Dersham built the two replica
hulls together over two weekends last summer in Randy's boat shop (he builds MacKenzie River drift boats in
Nimrod, Oregon, just ten miles from Keith Steele's 1960s shop). Then each took a hull home to finish it. The
Portola has the red-white-and-blue Harper Goff paint scheme shared by all of Pat Reilly's boats, while the
Susie Too is white with a teal sheer stripe (the stripe was later re-painted red; Martin Litton apparently
hated the teal).
The hulls are 1/4″ plywood, with a 1/2″ bottom and 3/8″ horizontal surfaces–decks, seats, etc. What kind
of plywood, I ask Randy. Meranti?
"No, they're all fir," he says. "We bitched about it every step of the way." Although Greg and Randy wanted to use fir to match the original boats, marine fir plywood is not what it
used to be. The football-shaped patches kept popping off the panels as they bent the sides on, needing a
lot of filling and fairing. But the job got done, and done well. The Ride
So today I got to row both the Portola and the Susie Too. After rowing Fat George (a better name for my
raft than Georgie, I've decided), the nine-foot oars in Greg and Randy's boats feel like toys. And in a
raft I'm perched high atop a gargantuan cooler. In Greg and Randy's boats I'm so low to the water I feel
like I'm paddling with my hands.
It's a FAR better experience in the hard boats, like moving from an overloaded garbage scow to an elegant
Whitehall. Except that the Portola and Susie Too turn on a dime and give you fifteen cents change, which
no Whitehall could match. One stroke of an oar is enough to spin me around 180 degrees in the current.
It's so much fun that after I ride through Unkar Rapid (a 6) on my fat raft, I run back upstream to ride
through again in the Portola with Greg Hatten and his other passenger, Pam Mortenson.
Unlike the heavy rafts, the Portola is alive in the water, leaping high over the waves even with three
people aboard. Greg steers a line through the long rapid (one of the longest in the Canyon, maybe 1/4 mile
long) dodging holes and porpoising over big standing waves. At one point the bottom hits a hidden rock in
the trough of a wave, and apart from a dull thud, there's no problem–the Portola just keeps driving on.
Later I get to row Randy's Susie Too through a couple of smaller riffles, with Dave Mortenson as my
passenger. A few days back the oak pad at the base of one oarlock split–whitewater puts tremendous
leverage on nine-foot oars–and Randy eventully sawed off the pad flush with the gunwale on that side
to fix it, reinforcing the new lower oarlock with fiberglass. There's a difference in feel between the
two oars after Randy's surgery, but not one that seems to matter much. Again, the boat is like a live
thing, fast and nimble. Despite being a bit nervous–no one wants to ding someone else's boat–we come
through unscathed. Not only unscathed, but already thinking about what my wife would think of another
boat in our garage, something like a drift boat, maybe…
I guess I should finish the boat I'm working on now first. But if I come back to run Grand Canyon
again–make that when–I'll be in a hard boat if I can. I ask Randy what he thinks of the Susie Too,
since he knows this kind of boat a lot better than I do.
"It is made for this river," he tells me. "I rowed it down the Rogue river and it felt too big and
too heavy. But it's a healthy size for this river." The Rogue is smaller; though it's much more
technical and rocky, it typically runs anywhere from 2,000 to 8,000 cubic feet per second. "Very definitely it's big big water here," Randy says. "7,000 and 13,000 right now–and that's low water."
Tomorrow morning, first thing, the Portola and the Susie Too will see their biggest rapid yet–a rapid
that would be nothing more than a rocky trickle today if David Brower, the Sierra Club, and a whole
community of river rats had not collaborated on a book designed to show Congress the colossal mistake
they were about to make.
Looking down the rocky jaws of Hance Rapid, knowing that I'll be taking my raft through tomorrow morning, I'm still grateful. Incredibly grateful. I just hope I don't end up swimming.