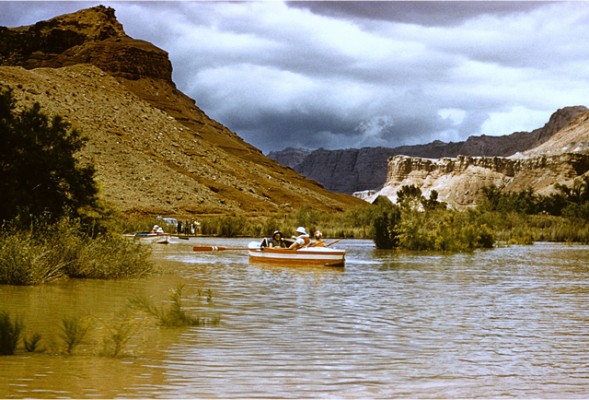 Day 01: Six Mile Camp
March 21
We've had an easy day for my introduction to Grand Canyon river running. After spending yesterday moving mountains of gear (dry bags, ammo cans, more dry bags, more ammo cans, rocket boxes, kitchen boxes, propane tanks, food, more food, more dry bags, along with piles of every other conceivable waterproof container) onto the boats and lashing them down with cam straps, buckles, more straps (four-footers, six-footers, nine-footers, an overwhelming tangle of straps for every single item in each boat, each strapped down tightly in two directions until each raft seems little more than an intricate geometry of webbing in the shape of a boat), we shove off from Lee's Ferry after lunch. Sunny weather, blue skies, and temperatures in the 70s. Perfect.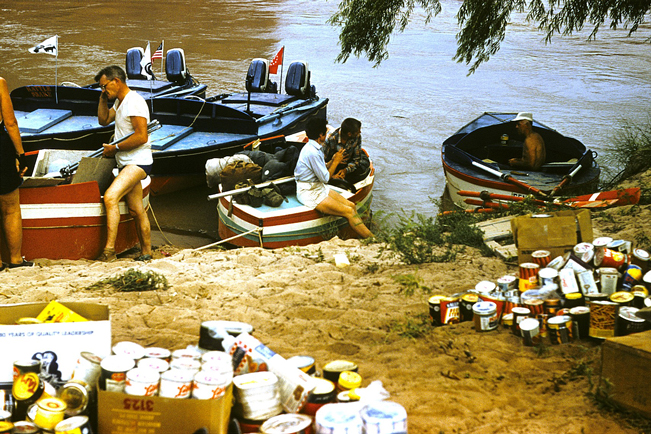 Getting ready for launch in 1957. A different river, with no Glen Canyon Dam and almost no chance of a rescue if things go bad.
Immediately after launching, we hit our first "rapids" a tiny set of ripples just downstream. Not much trouble even for me, but I'm finding out that a fully loaded raft is a pig to row (think of riding a hippopotamus that hasn't been completely saddlebroken), and the river is powerful enough that it seems I'll have to learn to plan several moves ahead in fast water. I don't have the feel of it yet. Later in the day, in another set of tiny ripples, I misjudge the current and am almost swept onto a rock. Only a few frantic pulls with the oars keeps me off the rock. That'd be a heck of a way to start, breaking an oar or flipping a raft a mile out of camp. On a rapid a six-year-old could run.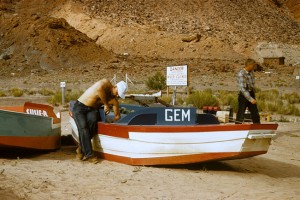 Moulty Fulmer prepares his 1953 design Gem for a 1957 run. Gem was the first Grand Canyon dory (essentially the hull of a McKenzie River dory with decks added to run big whitewater). Fulmer was the first to use this type of hull in Grand Canyon, but not the last; descendants of Fulmer's Gem still run the river today.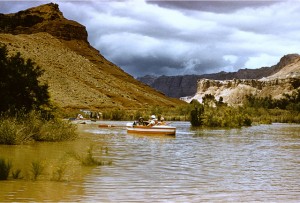 Moulty Fulmer (leading, in his Gem) and Brick Mortenson (Dave's father, rowing Reilly's Flavell) launch on their 1957 trip. On this run, Fulmer, Reilly, and Mortenson encountered the highest water ever run, cresting at 122,000 cubic feet per second. (Flows of 25,000 cubic feet per second are considered extreme high water today, with 7-12,000 closer to the norm). The water was so high in 1957 that the road to Lee's Ferry was flooded, and the boaters had to put in on from the flooded Paria River just downstream, pictured here.
After those first few ripples, the rest of the day is flat water between a narrow canyon formed by towering red-gold cliffs, and we'll be in camp by late afternoon, a sandy beach where a side canyon cuts through the cliffs on river right (facing downstream). It doesn't take too long to unload the boats and set up my tent, and I'm off for a scramble up a boulderfield, onto a steep scree bench high above camp. By the time I get back, supper is ready: salmon, rice, and Oreo cheesecake. And someone has even brought a camp chair for me. It'll be interesting to see if this gear-intensive luxurious style of camping corrupts me, changes my dirtbag backpacker habits. Probably not; I'm too lazy to haul all this gear unless I'm forced to do it.
I'm learning as I go, and I'm in good hands. Most of the group has done Canyon trips before. Tom Martin, for example, has done many runs and hikes here, and has written or co-written guidebooks for Grand Canyon river runners and hikers. Tom is tall and lean, well over six feet, with gray hair, a mustache, and the soft-spoken, laid-back and uber-competent demeanor you'd expect from a veteran river rat. And he may not even be the most experienced boatman on the trip.
"How many times have you done this trip, Tom?"I ask him as he's fiddling with some kind of hot drink for the campfire.
"I don't know," he says. "I stopped counting when I passed my age."
It was Tom who gave us our initial safety briefing: man overboard procedures, hand signals, everything that you need to know on big whitewater. He clearly knows what he's doing here, and yet has no doubts about us novice rowers being able to handle the trip. Which inspires confidence, with plenty of big rapids coming up and the water a chilly 47 degrees. But according to Tom and his wife Hazel, the biggest risk on the trip was the drive up from Flagstaff. Our culture has trained us to ignore the dangers of driving, while over-emphasizing the chance of serious trouble on the river.
Still, whitewater safety, how to run rapids; that's important stuff. But after supper Tom Martin calls the novices together for something even more important: the groover talk.
A groover, it turns out, is a toilet seat perched atop an ammo can. Carried for obvious purposes. Park regulations these days apparently require river runners to pack everything out. (Everything). We've got eight of these sealable ammo cans along, and a rotating assignment for a crew in charge of setting them up (not bad) and re-packing them (probably worse, especially as the trip goes on).
Sixteen people. Twenty-four days. We'll have to stretch each can to three days. Which is why, beside the groover, is an orange bucket labeled "Pee." Separation of functions, Tom explains it. If people pee in the groover, it'll fill up too quickly. Instead, pee in the bucket, or in the river, the only other authorized option. Then do your business in the groover.
Set here on the beach of Six Mile Camp, the groover makes up for it lack of amenities with a million-dollar view.
Tomorrow brings our first real rapids. We'll see how it goes. I'm off to the campfire.